Originally published in Better! Cities and Towns, 21 May 2014
Bicycle and pedestrian advocacy has become a huge movement, with more than 220 state, provincial, and local advocacy organizations that are members of the Alliance for Biking & Walking. The alliance recently published out its annual Bicycling and Walking in the United States, 2014 Benchmaking Report.
The 260-page book, which can be downloaded online or purchased in print, is a tremendous research effort — despite the criticisms I am about to deliver. I would recommend it to anyone interested in this subject.
Among the good news: Walking and bicycling are on the rise, gradually, and becoming safer. Bike share programs are surging.
Yet this report also reveals a big hole in this movement — many ped-bike advocates rarely talk to urbanists and vice-versa. The report has about 40 authors and reviewers – representing major nonprofit, academic, and government institutions. They appear to be only vaguely aware of a key factor in the success of nonautomotive transportation: Place-based planning and development.
Densely interconnected networks of streets — i.e., grids — and the diversity in buildings and smaller streets that go along with them, are mostly ignored in this report. The chapter on levels of bicycling and walking examines many factors but fails to mention the form of the built environment. Note to the Alliance: The levels have everything to do with the form of the built environment.
Take Bicycling and Walking on bike sharing, for example: "Bike share systems, which make bicycles available to the public for low-cost, short-term use, have been sweeping the nation since 2010. These systems offer many benefits: they can help replace car trips and relieve pressure on transit systems; are often more affordable than bicycle ownership to many residents; make bicycle storage more convenient; and introduce a wider audience to bicycling."
Of the nation's 52 largest cities, 20 have bike share (from 0 in 2007), and 22 more have bicycle sharing in the works. "Studies of European cities that have launched bike share programs have found substantial rises in bicycle ridership in those cities. Paris saw an increase in trips made by bicycle from 1% to 2.5%."
In short, bike sharing is a game-changing technology and trend. It is also entirely dependent on place-based development — a fact that you cannot discern from this report. A reader may get the opposite impression. In the first paragraph of the executive summery, the report states: "… public bicycle sharing programs are finding success even in sprawling car-centric cities." That's true, but also misleading. In places like Houston, Texas; Charlotte, North Carolina; and Broward County, Florida, all of the bike share stations are located downtown or in compact, walkable neighborhoods. That's also true nationwide — you can confirm it in a few minutes by checking random bicycle station maps. Here's a map of the Houston region, for example, and an arrow pointing to all of the B-Cycle stations.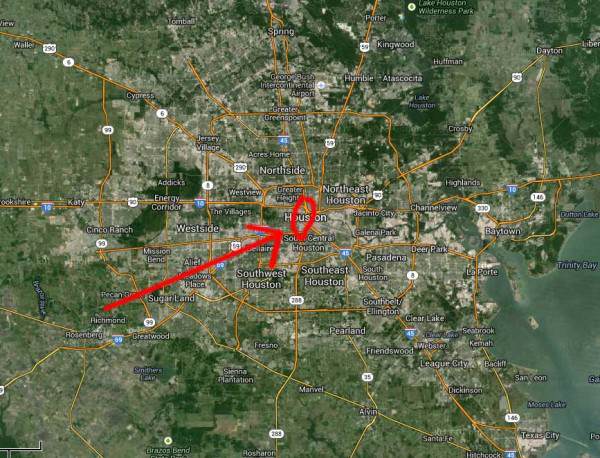 Where to find open-streets initiatives
The report highlights another trend: "Open Streets initiatives are being organized in communities of all sizes." These initiatives involve closing down streets a few miles long for a few hours, and letting people walk, bike, ride scooters, dance, or do anything but drive a car. These are marvelous, festival-like events, that bring thousands of people together to socialize and exercise.
Open streets initiatives tend to take place in street grids or thoroughfares that are connected to or surrounded by grids — like a parkway through a city. For one thing, alternative routes for drivers are needed. Also, "open streets" benefit from people in urban neighborhoods walking or biking to the event. For those who drive, on-street parking on nearby blocks is helpful. Where would one hold such an event in a sprawling, automobile-oriented suburb? Close down any long section of road and traffic chaos would follow.
You won't read that in Biking and Walking in America. The report, interestingly, focuses on central cities and mostly bypasses what is happening in suburbs — which comprise 90 percent of metropolitan areas. Most of the data comes from the 52 largest cities and a sampling of mid-size and smaller cities.
Yet the report doesn't have much to say about what makes central cities different from most of their suburbs, or how dense and compact cities differ from the sprawling ones. All of the cities that perform well are of the former group. Boston, for example, has the highest rate of walking to work of any major city — 15 percent. Boston is also the safest large city to walk. Jacksonville, on the other end of the spectrum, has one of the lowest rates of walking to work of any major city — 1.3 percent. If you take a stroll in Jacksonville, you are 46 times more likely to be struck by a car and killed compared to a person on foot in Boston.
The main difference between Boston and Jacksonville is not sidewalks, trails, "complete streets" policies, or crosswalks — all of which are emphasized in the report and all are important in their way. Yet you can place a sidewalk, crosswalks, and bike lane on an eight-lane urban arterial lined with parking lots and big box stores and few people will get out of their cars — mostly those who have no choice. The real difference is the way these two cities are organized. Boston is built to be walkable and bikable, and Jacksonville is not.
The solutions offered in Bicycling and Walking in the United States make sense as far as they go. We need more bicycle lanes. We need crosswalks. Complete streets policies are a good first step. Policies, in themselves, don't do any good unless they are implemented and implemented well. And that's the rub. Many of them are not being implemented.
Moreover, it's not just about what is between the curbs. It's about placement of buildings and parking lots and street trees. It's about the codes that determine how streets are designed and buildings interact with the public space. It's about street networks and size of blocks and how it all fits together. It's about creating a place.
I don't expect bicycling and walking advocates to fix these things. Most of them are not professional planners, urban designers, developers, or elected officials. But I am hoping that the 2015 Benchmarking Report includes a lot more data and awareness of the connection between walking, bicycling, and place.
An easy fix would be to include a lot of data from the website walkscore.com, which is a proxy for place. Walk Score, which gives a walkability score of 0 to 100 for every address in the US, measures the economic affects of place-based development. Great urban places concentrate economic activity such as shops, services, restaurants, and institutions, raising the Walk Score. Bike share and high levels of walking, biking, and transit use tend to occur only in places with a high Walk Score. (The highest levels of walking occur in places with high Walk Appeal, not just Walk Score, but Walk Appeal is not easily measurable).
Raising these activities appreciably is therefore a question of raising the Walk Score, which can only occur to a significant extent with place-based development. The nationwide and international network of advocacy groups for bicycling and walking should be aware of, and emphasize, that reality. They need urbanists, who can deliver the higher Walk Scores, and urbanists need them. Bicycling and walking advocates represent a powerful force for change in the built environment. It would be a good idea for urbanists and ped-bike advocates to team up on this report and future projects.