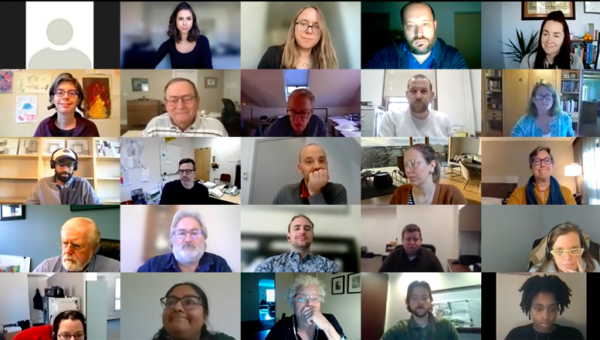 Last fall, the Form-Based Codes Institute successfully hosted its most popular class–FBC 101: The ABCs of Form-Based Codes–in a virtual, synchronous setting for the first time. FBCI staff worked for several months with seasoned instructors and other form-based code experts to develop the content and activities. Because of increased interest and use of form-based codes across the country, FBCI is pleased to announce the class will be offered again this spring, launching at the end of March! This is an opportunity for those who are interested in form-based codes to learn from experts and collaborate with other practitioners and interested participants. 
The format consists of four, two-hour sessions, in which participants learn how form-based codes are essentially different from conventional land use regulation and how they have evolved to solve many of the problems created by conventional zoning. The course provides an overview of the process for creating a form-based code—moving from an initial place-based community vision to an adopted code and beyond. Instructors combine lectures with online virtual engagements, breakout sessions, and interactive exercises in observing the built form of a community and the shape of public spaces. Participants also discuss common misconceptions about form-based codes and the legal basis for form-based codes. Participants who complete the course are eligible for 8 hours of American Planning Association (APA) continuing education credits. Modules will be offered from 12:00 – 2:00 PM Eastern Time on four consecutive Thursdays, beginning March 31:  
March 31 | Module 1: Form-based codes – A tool for shaping community form and character.
April 7 | Module 2: Learning what to look for when coding with a form-based code.
April 14 | Module 3: Getting ready for a form-based code.
April 21 | Module 4: Making your form-based code work in your community.
What can I expect from FBC 101 Virtual Edition? 
Participants that include planners, architects, city council members, and elected officials

Learning from top form-based code expert instructors from around the country

Engaging with a range of practitioners and decision-makers

Understanding how zoning has an impact in different community contexts
The new virtual format enabled a wider range of attendees, including participants from all parts of the country and in different local roles, including city council members, to attend. This virtual setting also gave participants access to more instructors with different backgrounds, rather than the one or two who are available for in-person classes. Having decision makers like these discuss how form-based codes can better their communities is a crucial step towards understanding how form-based codes can help achieve their vision of livable places, healthy people, and shared prosperity. 
What did attendees say about the first FBC 101 Virtual Edition?
"The interactive breakouts were extremely valuable, as learning from other communities on how to implement form-based codes is helpful. We are getting ready to begin our budgeting process and prepare RFPs–the instructors have no idea how much they've helped me!"

– Jay Lagree, City Commissioner, Rehoboth Beach, DE

"I am very happy with the information I learned. I was able to bring that knowledge to my job in the City of Charlevoix immediately. In fact, just one week after the class ended, I have applied my learnings to ADU standards that the Planning Commission has been reviewing. Form-based codes seem a perfect fit for our small historic, architecturally significant cities and villages I serve. Before these four modules, I was struggling with form-based concepts. I can't wait for the second set of classes." 

– Jonathan Scheel, Planner and Zoning Administrator, Networks Northwest, MI, a 10-county public agency providing workforce development, economic development, and regional planning services to communities in Northwest Minnesota.
Some past class participants have already reached out to FBCI for additional information on how they can practically implement form-based codes in their communities.
FBCI would like to express our appreciation to past instructors Tony Perez, Leslie Oberholtzer, Mary Madden, and Jennifer Hurley for their work in creating and leading the inaugural virtual class; and thanks to all of the other FBCI leaders and staff who contributed to its success. 
We look forward to our next FBC 101 Virtual Edition, starting in March, and hope to see you there!