Last week, we hosted "Tools and techniques for virtual community engagement," the second of three webinars hosted by the Form-Based Codes Institute and the National Charrette Institute. Speakers explained how to develop a framework for thinking about how people engage online and shared specific approaches to virtual community engagement in Kalamazoo, MI and Cambridge, MA. A recording and recap are now available.
This webinar is the second of a three-part series focused on providing local leaders, developers, and advocates with tools and examples for staying in contact, sharing ideas, and getting interactive feedback to keep critical decisions moving forward when in-person engagement isn't possible. A recap and recording is available for the first webinar, "Charrettes go virtual: Missoula, Montana hosts an online charrette to advance a community vision." Register here for the third webinar "Equitable inclusion in virtual community engagement." 
A discussion recap
Hosts Holly Madill, Director of the National Charrette Institute (NCI), and Marta Goldsmith, Director of FBCI, kicked off the webinar by acknowledging the anger and grief felt by many during this turbulent time. They expressed their organizations' commitment to supporting equity-centered organizations that have been focused on the issue for years. You can read Smart Growth America's full statement here.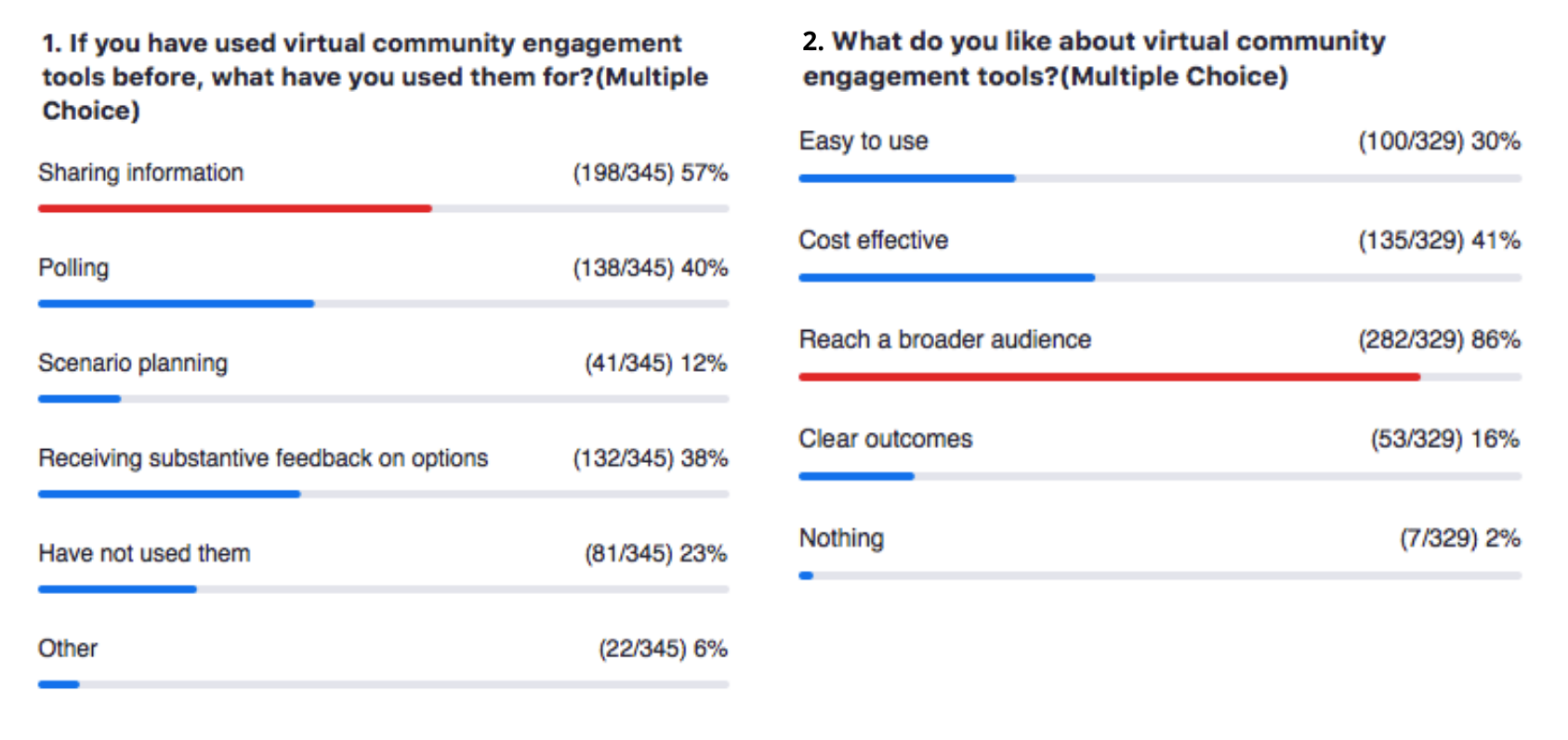 Jennifer Hurley of Hurley-Franks & Associates centered the first 15 minutes of the webinar on creating a framework for virtual community engagement. She shared critical questions that must be considered before crafting a public engagement plan—virtually and otherwise:
What is your participation purpose? 

Who needs to participate?

How do people participate?

How many participation feedback loops do you have?

What resources and limitations do you have?
Above all, Jennifer was adamant that community engagement be adaptive and holistic—very rarely does a single method of engagement address the needs and preferences of a full set of stakeholders. And as an experienced public engagement professional, Jennifer stated that "without targeted, network-based outreach, you will only get the 'civically obsessed/usual suspect/frequent flyers."
Next, Christina Anderson, City Planner for the City of Kalamazoo, MI shared her experience conducting virtual community engagement for topics ranging from the City's marijuana ordinance to planning safe routes to school, a new downtown zoning proposal, and regular public hearings. She described how Kalamazoo is reaching record participation with thoughtful, low-cost techniques—many of which can easily be employed by municipalities with budget and staff constraints. 
Christina also introduced a more sophisticated tool, Open Town Hall, which allows Kalamazoo to replicate in-person meetings with full comment transparency, mapping and survey features, and a question database used for different types of projects across the country. 
Overall, she echoed the importance of a wide-ranging and resilient engagement plan that incorporates both virtual and in-person strategies. Kalamazoo approaches different types of virtual engagement tools depending on the nature of the project and dynamics among stakeholders. 
Participants then heard from Tom Evans of the Cambridge Redevelopment Authority (CRA) in Cambridge, MA. Tom began by explaining the transformation of Cambridge in recent years—a formerly underutilized industrial area replaced by substantial amounts of office, housing, and institutional buildings. About 6 years ago, the CRA turned to coUrbanize to give stakeholders ample opportunity to weigh in on the redevelopment that's rapidly unfolding and expected to accelerate in the future. Tom explained how the city has used the tool to supplement in-person techniques for large-scale development projects in Kendall Square and surrounding areas and focused specifically on The Foundry—an "adaptive reuse project to build a self-sustaining center for creativity and collaboration for the Cambridge community with a mix of arts, cultural, educational, fabrication and commercial activities."
As with the other panelists, Tom recognized the shortcomings with coUrbanize, which is primarily a site-specific real estate development tool, and noted that some projects in Cambridge are increasingly reliant on other forms of outreach like Esri Story Maps to improve information sharing and make engagement more interactive.
Questions?
We had so many great questions during the Q&A section of the webinar that we couldn't get to all of them. We followed up with Jennifer, Christina, and Tom to discuss answers to some of the questions we missed.
How were webinar panelists chosen? Do you think they are representative of the communities we serve?
Marta & Holly: We select panelists based on their experience with and knowledge of virtual community engagement, and the diversity of places they represent. Our last webinar included speakers from Florida and Montana and our third webinar will include panelists from Berkeley, CA; Memphis, TN; Richmond, VA; and Washington, DC. With limited time available in each webinar, we only can feature a few speakers each time. It is our intention to include a wide representation of people, places, and backgrounds as possible.
What are some of the challenges of combining and synthesizing information if your process uses multiple tools, and how have you addressed them?
Jennifer: It's the same challenge you have with any engagement process where you have multiple ways for people to give input. The best way is to integrate what you think you know or understand and then have another feedback loop to check if your integration is resonating with stakeholders and decision makers. That's why any engagement process that is more complex than the most routine situation should have at least 3 feedback loops.
What applications have you found useful for online crowdsourced mapping? 
Jennifer: I haven't personally used the crowdsourced mapping tools, but the following sites have crowdsourced mapping capabilities, and all 3 have been recommended to me by people who have used them: Metroquest, Bang the Table, and Social Pinpoint.
Tom: Cambridge and Boston have used Wiki Map for a number of transportation planning efforts.
Are there any suggestions for dealing with 'bad actor' comments in public forums?
Jennifer: Set ground rules and then enforce them. For example, facilitators of public meetings need to clarify how panelists and attendees should use the platform, whether or not the session is being recorded, the meeting's purpose, how questions will be addressed, expectations for interaction, and consequences for disruption.
Tom: We have a staff person responsible for hosting our meetings and intervening with inappropriate accounts. We recently disabled the group chat function during public Zoom meetings to avoid distracting conversations. And CoUrbanize has filters for inappropriate language and measures tone in messages through keywords. 
In addition to an engagement tool like this, what are other simple ways to ensure a feedback loop with the larger community? 
Jennifer: This is a matter of attitude, commitment, and follow-up more than anything. Every time you get input from a group of people, make sure you follow up to tell them what happened with their input, and then follow through with your statements. Email newsletters are one good way.
How can you gather design input that typically comes from a hands-on charrette? For example, how could a community "comment" graphically on proposed mobility networks? Is there a platform that allows participants to upload sketches?
Jennifer: Bang the Table has a feature for people to upload images onto a map. Some of the vision board and whiteboard tools also allow for image uploads. Miro, Mural, and IdeaFlip are other platforms with collaborative whiteboard features. Padlet has collaborative vision boards, sticky notes, SWOT analysis.
How can you ensure virtual public meetings are demographically diverse? Can you evaluate the diversity of participants virtually?
Jennifer: First question: Do you ensure your in-person public meetings are demographically diverse? What tools do you use to do that? There are two pieces to try to improve demographic diversity: (1) better (more targeted) outreach and (2) monitoring. Start with your engagement planning process: identify which demographic groups are important to your project but are usually missing and find a way to reach out to them directly and/or hold participation events (in-person or online) for those groups specifically. Then use monitoring to find out if it's working. Many online tools allow for some kind of short survey, either as part of the registration process or part of the tool itself. Track your participation to compare to who you were trying to reach, and then make adjustments if it's not working.
Please describe the appropriate use and approximate cost of the following tools:
MetroQuest (Jennifer): It's a bit opaque, because Metroquest does not provide pricing on its website, and they have both one-off and annual subscription options. Last I heard the one-off options started at $1500. But the per-survey price could be much lower if you were using an annual subscription. Some cities get annual subscriptions so multiple departments can use it, and some large planning and engineering firms have annual subscriptions.
Open Gov: Open Town Hall (Christina): The cost of Open Gov/OpenTown Hall is based on the community size and scales up with a larger population. In Kalamazoo, this platform is used for our budget work and our community engagement. I believe it starts around $5,000. We use the Open Town Hall platform for engagement through surveys, prioritization of activities, and questions that require a map to answer, such as where would you like to see a street tree, where do you bike, what should this area be rezoned? Open Gov has very helpful support staff that use their experiences with other communities to help you shape and develop the best online activity to meet your needs.
coUrbanize (Tom): Our coUrbanize sites cost $400 per month, but this can vary depending on the suite of tools you subscribe to. In the past, there was a ramp-up fee to customize the site, but they now have more plug-and-play templates.  
Have virtual tools made it easier to document what you're doing in meetings and how people are responding in real time?
Tom: We can monitor an activity dashboard on our coUrbanize and Squarespace websites. We track spikes of activity after certain events or announcements, but have yet to see activity pick up organically, thus reinforcing the virtual tools as a companion to other outreach. We can also produce reports and snapshots of participation that have been used in hearings and within final planning documents.
Are participants concerned about privacy during online engagement? How can you ensure anonymity? 
Jennifer: It depends on what kind of online engagement you are doing. If you are doing an online structured survey, then it may be appropriate to allow anonymity, just like in other kinds of surveys. But if you are having people participate in discussion forums or making comments on project proposals, then absolutely do not allow anonymous comments. There are plenty of places on the internet for people to be anonymous, but public discussion about civic issues is not one of them. We expect people to identify themselves (often by name and address) when they participate in person, and we should expect the same thing online.
Tom: This has been tricky in meetings. Our board and members of the public want to be able to 'see' the room, and sometimes ask participants with nicknames or phone numbers to identify themselves. I have emphasized that we can request that meeting participants sign in, but don't feel the need to require it. Speakers addressing the matter at hand (not counting our handful of Zoom-bombers) have always identified themselves. 
CoUrbanize can be viewed anonymously, but a user must sign in to view and submit comments and the algorithm asks for real names and emails.