What's the best way to introduce the first form-based code in an entire country? A team led by architect and urban planner Eduardo Castillo Cortés took a micro approach, devising an FBC that would be implemented initially in only one of the four districts that make up the small city of Curridabat, Costa Rica.
Located on the eastern outskirts of the country's capital, San José, Curridabat served in the 18th and 19th centuries as a trade center for surrounding coffee plantations, which, by the time the city was incorporated in 1930, were being replaced by residential developments, many of which are now gated subdivisions. Not surprisingly, as the city's population increased and became more dispersed, sprawl set in, characterized by traffic congestion, a lack of connectivity between neighborhoods, busy and non-pedestrian-friendly streets, and single-use zoning. Land also is becoming scarce and expensive, spurring calls for more compact development and affordable housing. Rail lines that once connected the city center to San Jose and to the country's ports slowly are being reconfigured to reconnect the city and other areas in and around the capital to a modern transit system.
"Fortunately, Curridabat's visionary mayor, Edgar Mora Altamirano, decided it was time to seek a new planning approach to replace the city's Euclidian zoning system, which had been in place since the 1980s. He envisioned a plan and regulations that would use the city's built environment more efficiently and flexibly, while making it more accessible, attractive and inclusive, starting with the town center district," said Castillo Cortés. His firm Castillo Arquitectos, which is headquartered in Guatemala City, Guatemala, teamed up with Coral Gables, Fla.-based Dover, Kohl & Partners and Miami-based PlusUrbia Design, to develop and help Curridabat devise a new plan for the central district and implement a FBC for the same area.
The consultant team focused on increasing the central district's walkability and connections between neighborhoods, while reducing congestion. The planners also implemented mixed-use designs to build on the country's tradition of allowing private spaces to function as both homes and businesses.
The resulting plan lays out a series of compact, connected neighborhoods surrounding existing or proposed centers. For example, it has been proposed that Curridabat's city hall be relocated to the front of the central district's main plaza.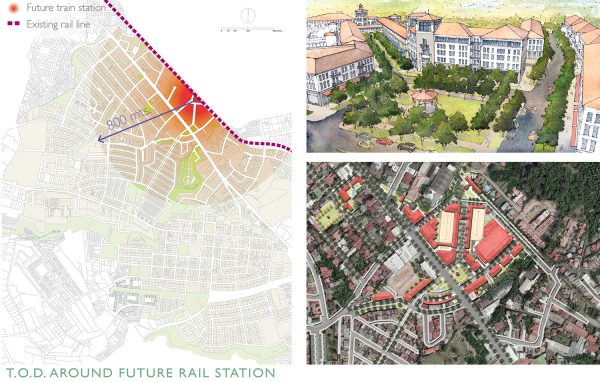 In some respects, Costa Rica is well suited to FBC implementation because private spaces often serve as both homes and businesses. And, although Curridabat's colonial-era architecture no longer exists, the city preserved the street layout Spain imposed on its far-flung territories during the 16th century. As a result, towns throughout the Americas were built to accommodate a central plaza surrounded by important buildings from which the towns' principal streets radiated in a grid pattern. Curridabat's town center features this type of interconnected octagonal street grid, which is conducive to FBC development, although the grid becomes more fragmented in the city's outlying areas. Neighborhood edges could be defined by major streets and parks. Many are edged by naturally occurring ravines, which will be converted into parks or greenways connected  by streets or pedestrian paths.
Curridabat's central district has several affordable housing projects, most of which date back to the 1970s and are not street accessible. The new plan calls for several acres of infill sites to be developed with affordable housing while integrating the buildings into the urban environment and providing more mixed-use development. Many of these sites are close to major transit corridors.
New street guidelines for neighborhoods throughout the city call for sidewalks and street trees, lighting and bicycle lanes to connect all of the neighborhoods and provide access to public transit, including a planned train station, around which high-density housing, shops and offices could be built. Both of the regional roads that run through the districts will be converted from six-lane car-oriented roads into multi-way boulevards with tree-lined medians running through them, along with the features described above. Higher, mixed-use buildings will line major corridors with first-floor retail topped by apartments or offices being encouraged.
The city's new plan and code will introduce a broad range of building types that reflect Costa Rica's climate and culture, such as courtyard buildings for single- and multi-family housing. Finally, the city's plan envisages a broad spectrum of parks, ranging from small "tot lots," neighborhood parks and plazas to a skate park and several large enough to accommodate ball fields. A proposal to build a linear park that would reuse land left vacant by an abandoned highway expansion plan would provide space for trails, community gardens and an arboretum.  The master plan and the FBC for the central city was completed in 2013 and adopted in 2014. The project was awarded a Charter Award of Excellence for Best City Plan by the Congress for New Urbanism in 2014.
"Our approach was unprecedented in Costa Rica, where city planners develop zoning rules without much outside consultation," said Castillo Cortés, who helped form the conceptual ground work for Guatemala City's adoption of an FBC a decade ago and is developing one for another city in Costa Rica. "This initiative was also notable in that local governments do not have systems in place to request proposals for these types of planning projects. Most local governments in Central America build infrastructure projects that can be finished within a four-year term and used as political propaganda. We could not have even embarked on this one without Mayor Mora Altamirano's vision and leadership and that of other city leaders. This gives me hope that the process we followed can be recreated by working with other city mayors."