A new guidebook, Placemaking as an Economic Development Tool, has been published by The Land Policy Institute at Michigan State University in collaboration with the MIplaceTM Partnership Initiative. The book, which is available for download free of charge, is designed to help communities understand how effective community and economic development can be enhanced through effective placemaking.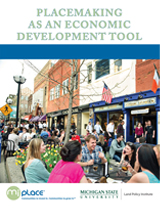 The book discusses the tools, techniques and strategies— such as form-based codes — that can be used to create an improved "sense of place," enhance local quality of life, attract talented workers and establish an environment for economic competitiveness. It explains how to create vibrant places where people are drawn to live, work, play, shop, learn and visit.
The guidebook also includes a summary of research that supports placemaking, and identifies the related elements (good form, public engagement, planning processes and the regulatory tools) that are necessary to achieve it. The guidebook then takes a deep dive into four types of placemaking that can be used to create new and vibrant quality places that will attract and retain talented professionals.
Placemaking as an Economic Tool also includes case examples of placemaking in action, and highlights various organizations, including FBCI, that provide resources and guidance that planners and agencies can draw on to apply placemaking concepts effectively and adapt them to meet their communities' unique circumstances.
To order a free digital copy of the guidebook, visit the MSU Land Policy Institute's website.