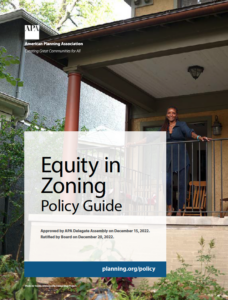 American Planning Association

The nation is short 3.79 million housing units due in part to exclusionary regulations that disproportionately harm disadvantaged and vulnerable communities.
Planners have the data-driven insights, understanding of broad community impact, and long-term perspective to help decision makers and communities avoid unfair outcomes in all parts of the zoning process and create more diverse housing options in places where they are needed most.
APA's Equity in Zoning Policy Guide positions planners to lead the way on zoning changes at the local, state, and federal level.
This guide prioritizes reversing and alleviating the disproportionate impacts of zoning through 3 aspects of zoning:
The Equity in Zoning Policy Guide also provides community planners with solutions that allow communities to boost housing supply, production, and fairness.
View This Free Book
View all books